WATERCO Hydrotuf Pumps 100 (Single Phase) 1.00 HP
Download Files
Waterco_Hydrotuf_Pump_Brochure.pdf
(0.91 MB)

-Price are not including delivery charges except KUALA LUMPUR


Power performance pump
Hydrotuf is equipped with an innovative lid and lock ring for easy access to a large capacity 2.25L strainer basket, minimising pump maintenance.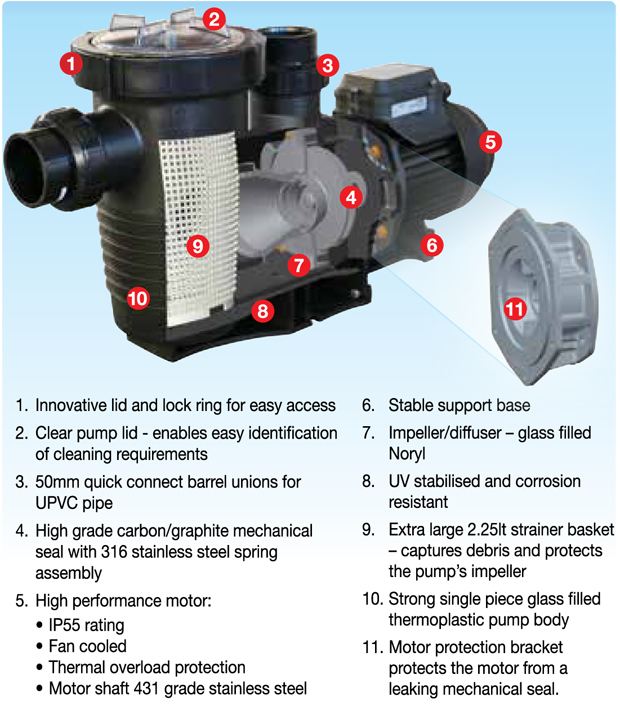 Hydrotuf is idea for large domestic swimming pools with ancillary systems such as heating, in-floor cleaning, vacuum cleaning, fountains and swim jets.
Efficient Impeller and Diffuser Design
The pump's impeller and diffuser design maximizes the hydraulic output of the pump while minimising turbulence. The pump's efficient hydraulic performance shortens run times and reduces energy consumption leading to lower operating costs.
Engineered Durability
The pump body is manufactured utilising state of the art engineering plastic moulding with a single piece strainer pot and volute for extra strength.
A high grade 316 stainless steel mechanical seal is incorporated for extra protection against corrosion. e.g. from chlorinated water, ozone, iodine, baquacil, bromine and salt water.
Motor Pump Protection Bracket
Situated between the pump wet end & the pump motor, a mechannical sel forms a seal around the motor shaft to prevent water from travelling along the motor's shaft.
The mechanical seal is the wearing part of any pool pump. A mechanical seal is the wearing part of any pool pump. A mechanical seal may leak water if the pump is ever run dry or simply work out. The ''Motor Protection Bracket'' adds a 60.5mm separation between the pump's wet end and its motor. It is designed to protect the pump motor by draining any leaks from a worn out mechanical seal.